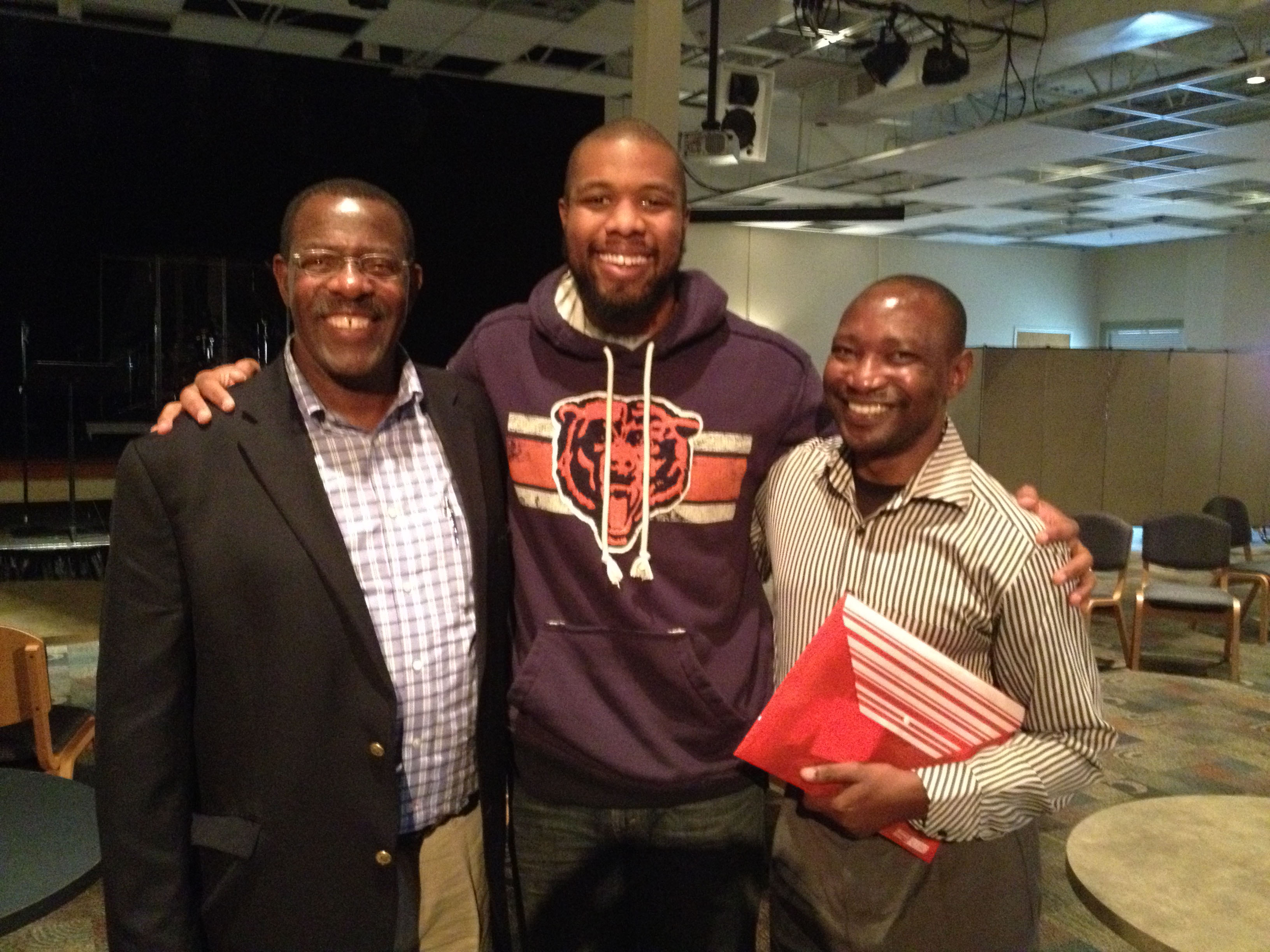 Movers & Groovers,
Ok, here it goes…so I was in a production of "To Kill A Mockingbird" this past fall at Grace Community Church in Noblesville. Great experience all-around but the biggest moment was unexpected. The cast met Dr. Celestin Musekura and Benjamin Nkusi (that's me with both of those wonderful gentlemen!) from African Leadership and Reconciliation Ministries (ALARM). We partnered with them so the offerings were going directly to them. They came to give us more background on what ALARM is and does. 
Their stories were incredible. I tried to wrap my head around genocide, neighbors killing neighbors in extremely large amounts and the road to reconciliation. I listened to Celestin and Benjamin discuss how God guided them to forgiveness and peace after great conflict and pain. Leadership development, reconciling relationships and transforming communities are the three main focuses of ALARM. After the genocide, the country had to come back together somehow; enter ALARM. And I sat amazed at the magnitude of what they had the courage to do. Hearing them talk about the danger they faced for even doing this work; Celestin described being beaten multiple times by people who didn't agree with the work of ALARM. It was so much to grasp but so much of what I needed to hear. I hope to never forget it.
When they finished, I took a picture with them and posted it on Instagram and felt great! I met some awesome people from Rwanda…so what's next?
Our director told us that there was a short term trip planned to Rwanda to work with ALARM. I came home and told my wife: I gotta go on that trip. I had to see how this worked. How could anyone salvage and rebuild a community after all of that? And if they did it, can we do it here?
So, I'm going to Rwanda. In March. To meet and work with some amazing people that God has called to do some amazing work. The offerings from the play are being used to send 50 Rwandan professionals to a leadership conference that we are going to be apart of, in service (teaching some of the curriculum) but also just to BE and build with the attendees. There will be professionals from all areas, including education in attendance at the conference. I've been told my experience will be valuable to people who might not even be getting paid to teach but are doing it because it is TRULY their passion. I'm excited about what will happen there and what it will change in my life. 
I would love for you to support me if you would like to do so. Any amount you want to give is fine. I'll be settling my trip costs by February 8. My prayer is that I see and learn something that I can bring home to put to use in my home community because we need it. 
If nothing else, I hope all of this leads you to serve others somewhere. More to come as time passes. 
http://gracechurchin.org/serve/short-term-trips/trip-support-online-giving/
(You do have to make an account if you are giving but it doesn't put you on a list or anything like that. Feel free to share this with anyone you think might be interested in giving. Thanks and I love ya.)
The P.E.A.C.E.,
Mr. Kinetik